Joker (2019) : Fear of Clowns

With the gore of bullet wounds and the grace of a ballerina, psychological thriller Joker (Phillips, 2019) laughs until it hurts and then keeps on laughing. Unfolding in the infamous sin-city of Gotham, the film follows Arthur Fleck (Joaquin Phoenix); a vulnerable man living in poverty with his dependant mother Penny (Frances Conroy). Outside his weekly therapy sessions, he dreams of becoming a comedian and romancer but instead of being a stepping stone to better things, his clown-for-hire job soon leaves him beaten in an alleyway. Later, the weapon donated by his co-worker "for protection" makes an unplanned appearance while he performs at a children's hospital. With that, he is fired and released into a world full of triggers until the only thing that works is his gun. While Arthur's days as a clown are over, Joker has just begun.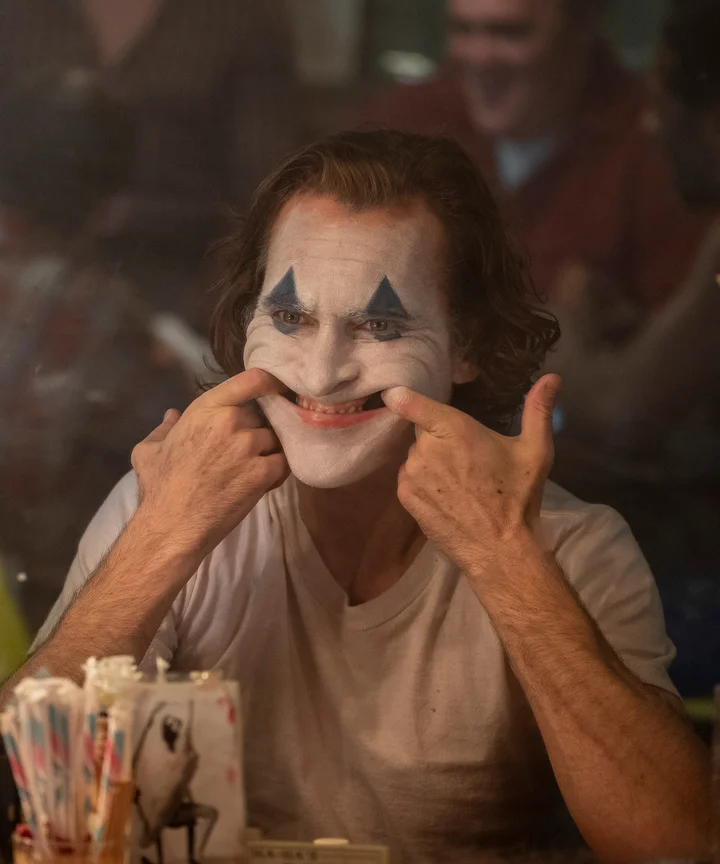 In the opening scene alone, mirror close-ups focus on Arthur as his rough fingers hook the corners of his quiet mouth into a forceful, tendon-snapping smile. He is a man who dreams of being a smooth operator, but is most known for his involuntary laughter spasms and the depression that seems to swallow him up like oversized clothes. Dancing is the only activity in life that he has both the power to control and the joy to submit to. The camera does a divine job of capturing this; stretching his feeble limbs heavenwards and contorting his slender torso in an eerie way that recalls Christian Bales' anorexic lead in The Machinist (Anderson, 2004). Soon, Arthur's dark and waif-like dances give way to full-body possession and extreme violence; stage makeup is Joker's war paint and a colourful suit is his armour. The soundtrack booms battleground percussion as he fights to be validated and to oppose the privileged 'clowns' of Gotham.
The film is strangely nimble in oversized shoes as it toes a tightrope between fantasy and reality. But if Joker was a stand-up show, it would be a downer. In fact, the audience would be so quiet that you could hear the barman polishing glasses. With themes of hardship, bloody violence and severe mental illness, the film is more of a tragedy than a comedy. Despite its exquisite performances and sequences of expressionism, the underlying punchline is worrying. Joker glorifies a neglected member of society and the disturbing philosophy that he develops; namely, that none of the medical, relational or psychiatric forms of support he has access to can ever help him. Ultimately, vengeance is as close as he gets to redemption; he laments "all I have are negative thoughts". Since the historic Joker dynasty is built on fantastical aggression and societal chaos, this pessimism is nothing new. However, this film crawls into a much more human vein of angst, vulnerability, trauma and political unrest. Even in Scotland, with our conservative gun laws and chatty people, I felt uncomfortable attending this public screening and heard many cinema-goers critique its message afterwards. It seems like none of us know how to feel.